HOT STUFF A TRIBUTE TO DONNA SUMMER AND DISCO DIVA'S SHOW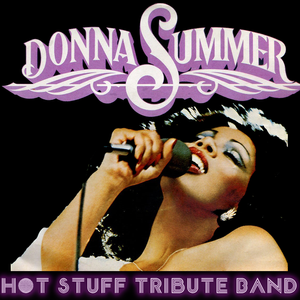 Featuring the very best SONGS of the Queen of Disco; Hot Stuff, Bad Girls, Mac Arthur Park, Dim All the Lights, Heaven Knows, Love to Love you, Last Dance and many more. 
*** But that's not all: We also play all the classic Disco Hits from the Women of Disco: Gloria Gaynor, Pointer Sisters, Taylor Dayne, Whitney Houston, Cheryl Lynn, Patti LaBelle, Aretha Franklin, Natalie Cole, Diana Ross, Roberta Flack, Gladys Knight, AND Madonna! *** 
HOT STUFF! plays everything you want to hear LIVE. NO BACKING TRACKS (UNLIKE MOST DANCE BANDS)!! 
HOT STUFF! delivers a high-energy, action-packed, individualized and UNFORGETTABLE show. Our vocalists engage the audience with their talent and showmanship. We will "SHAKE YOUR BOOTY" solid with a driving rhythm section of bass and drums, phenomenal keyboards and horns, and searing lead guitar. 
Every event we play is as important to us as it is to you. Let's Party!!! 
Available for TRIBUTE ACTS, FESTIVALS, WEDDINGS, CORPORATE EVENTS, NIGHT CLUBS, DANCE PARTIES, PRIVATE PARTIES, CRUISE SHIPS, AND MORE!!